Entertainment for Kids in Riverside that You Can't Miss
The Inland Empire region of California is as colorful as the stones of the desert surrounding it, especially the city of Riverside. With a history of citrus cultivation and hosting world-famous celebrities, Riverside is one of the most exciting places to experience California with your kids. Only sixty miles east of Los Angeles, it's a city of firsts, including Southern California's first polo field and golf course. With two dozen nationally registered historic sites and more than 100 city landmarks, there's a slice of history for everyone. From a day trip to a week-long vacation, there's no shortage of family-friendly ways to experience everything that this vibrant region has to offer.
One of the best things to do in Riverside is to take a tour of the California Citrus State Historic Park. With miles of walking trails and picture-perfect views, there's plenty of room for kids to run and laugh in the bright California sun. Couple this with the chance to taste all the fresh-grown citrus fruits, like oranges, grapefruit, lemons and limes, and it's sure to provide some quality outdoor entertainment. For a different slice of history, but one that is no less important, there's always the Mission Inn Hotel and Spa. As the largest building of Mission Revival style in the United States, and with past guests ranging from Presidents to royalty, your whole family will be amazed.
If your kids are still restless after all that touring, you can take them to the Sycamore Canyon Wilderness Park. A great place to hike a loop trail, your family can take in views of Riverside while also keeping a lookout for thrilling coyote sightings. For a blend of natural and cultural sightseeing, there's Fairmount Park, with everything from playgrounds to rose gardens to keep all the members of the family happy.
Plan a Vacation Full of Entertainment for Kids
With summer vacation getting heated up, and with the world reopening for family fun, now is the perfect time to bring the whole family to Riverside. With extra hours of our world-famous California sunshine, now is the best time of year to be outside with loved ones from dawn to dusk. But, when looking for exciting kids' activities, there's no better place in Riverside to keep even the smallest family member smiling than Castle Park. With attractions ranging from mild to wild, there's sure to be a ride or thrilling experience for every member of your family. On a particularly sunny day, or for adventure-seekers of a more hands-on kind, there's a classic games Arcade as well, letting kids get competitive!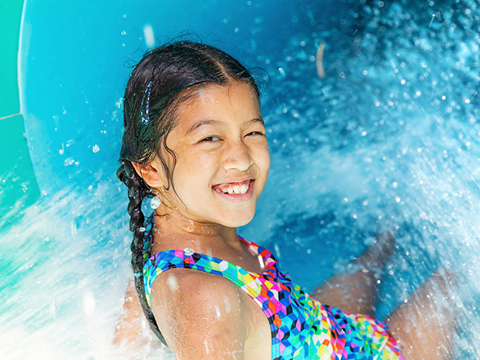 Castle Park also has plenty of special extras that will ensure you and your kids are comfortable no matter what kind of quests you encounter. One of the best ways to beat the heat in the summer is to reserve a shaded cabana that will fit your whole family. With six chairs for relaxing away from the crowds, and even a locker to keep your valuables in, it's the perfect way to rest and relax. Castle Park also ensures that every member of your family can access the full kingdom of fun by offering wheelchair and stroller rentals for affordable prices. This way, from the moment your family enters our gates, we provide everything you need to both conquest and crash afterwards.
Once you've worked up both a sweat and an appetite, we've got you covered with plenty of dining options to keep the fun going. Our most famous eatery, Al's Big Top Restaurant, offers BBQ options galore under a cool and colorful circus-style tent that will leave your kids laughing. The festive atmosphere of the space can even be booked for birthday parties, giving your kids a chance to enjoy it with all their friends. We take care of everything, from set-up to clean-up, ensuring the only thing you need to worry about is what flavor cupcakes to bring.
Cool off at Buccaneer Cove
If the long summer hours of sunlight start to wear-down your adventurous spirit, let us keep you cool with our Buccaneer Cove Water Park. With four levels of family water play and dozens of interactive water elements, there's a splashing good time to be had here by everyone. There are even five colorful waterslides that will let even the youngest members of your family feel they're on a grand adventure! With interactive aqua domes, spray cannons, spray loops, and cylinder spray fountains, there's never a dull moment here, quenching your young ones' spirit for questing. This is also the place to enjoy a cabana; letting your kids have the most fun while you get the most rest.
If your family is in a hurry to beat the heat, there's the even faster and more thrilling cool-down option of our famous Log Ride. One of the steepest and largest log rides ever built, you'll drop two separate times – one of which is a whopping 48 feet. Plus, the view from the top of that tallest hill provides one of the best angles of the park to amaze even your youngest family member.
A Kingdom of Great Things to do in Riverside Area
Here at Castle Park, we have a kingdom of the best Riverside entertainment that will keep your family smiling in the California sun all day. For starters, we are proud to host a man who is even more magical than Merlin himself with the Anthony the Magic show! Voted the Inland Empire's "Best Entertainer of 2019," and in the business of bringing smiles to faces for over two decades, his kid-centered show mesmerizes. If that's not enough summer fun, though, there's always the option of attending Duke's Dance Party any Saturday evening from late June to August. With a new theme every week, and appearances by Duke himself, there's sure to be something to spark your kids' interest and keep them dancing.
Of course, all this talk of wizards and dragons would make any kid want to meet some magical beings themselves – and we've got exactly that! After taking in our man of magic, Anthony, your young adventurers can rush over to take a ride on Merlin's Revenge and meet yet another wizard. A roller coaster that's fun for all ages while still being thrilling, your kids will gasp when they come face-to-face with the legend himself. If the promise of dragons excites your kids, you can sail through the sky with them on one's back on the Dragon Flyer. You can feel the wind through your hair and laugh along with even the smallest adventurer as you fly among epic mythical creatures.
Mini Golf Courses Among Best Kids' Activities
After you're done battling wizards and soaring with dragons, the best way to enjoy Castle Park until the sun goes down is our Mini Golf. With four courses that cater to all skill levels, there's something to thrill every member of the family. You can even keep the fun going after dark with the help of over 4,700 lights that will leave you feeling like you're at a magic ball. Thanks to our Prince and Princess courses, your kids can play while feeling like the young royalty that they are, pitting brothers against sisters for glory. If in need of a tie-breaker, or to keep the fun going for hours on end, there's the Duke and Merlin courses for an extra challenge.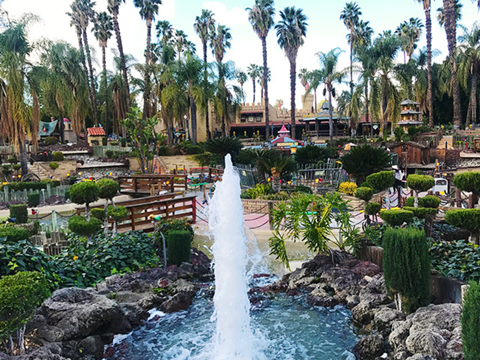 All of our mini golf holes are meticulously manicured, ensuring that every game is fresh, fun, and a little different every time. Over the course of this quartet of unique, award-winning courses, you'll find wacky obstacles and tricky buildings to keep every member of your family in awe. By the end, you might even forget that you're in Southern California and feel as though our kingdom is some exotic foreign land. With rapids, fountains, and waterfalls around each new bend, your kids can run and splash their way to some holes-in-one (if they're lucky!).
To make our Mini-Golf even better, we have special deals to ensure that you and all your loved ones get the best rates. There's a discount to be had if your older children are in school, or if a parent or guardian is a member of the military. Or, if your younger ones want to have the ultimate competition with at least 15 of their friends and family, we've got you covered! From birthdays to play-dates, we ensure that no matter how big the party, everyone gets to test their skills at the best price possible.
No matter what kind of day you're looking for, you'll find plenty of things to do in Riverside. From citrus trees to historic inns, city parks to Castle Park, this is one area promising great times for the whole family. Whether you want heart-racing thrills or peaceful family moments, from hiking to rides to Mini-Golf, we have it here in the heart of the Inland Empire. Come see us today and spend some quality time in the California sun with all your loved ones.