(More than) 3 Fun Things to Do in California For All Ages
If there is one state in America that has something for everyone, and plenty of fun places to go, it's California. As the second largest state in the continental US, and stretching nearly 900 miles along the Pacific Ocean, there's a lifetime's worth of fun things to do. Northern California is a region for nature-lovers, with its towering redwood forests and dramatic Pacific coastline, both popularized in books and movies alike. It also has something for fans of both history and modernity with its powerhouse cities whose names are easily recognized all over the world. San Francisco offers views of the Golden Gate Bridge and historic cable cars, while San Jose gives tech-junkies a rush with the promise of Silicon Valley.
Moving into Eastern California, especially the region of the Eastern Sierra, nature lovers can again rejoice at some special sights that can only be witnessed here. Mono County offers access to Yosemite's eastern entrance, as well as the less-crowded side, including Tuolumne Meadows, Tenaya Lake, and Olmsted Point. Western California offers outdoor adventures galore as well, but on the opposite side of the spectrum with surfing, swimming, sandy beaches, and coastal fun.
Southern California, meanwhile, may just be the most famous of all, and it has some of the best fun places to go with family. San Diego, offers a more laid-back side to California with some of the best surfing spots, and sights like the 1,200-acre Balboa Park. For nature lovers, there are the picture-perfect views of Joshua Tree National Park – one of the very best natural parks in the entire state. And, to top it all off, there's all the excitement to be had in the Inland Empire region, including Riverside and attractions like Castle Park. 
Spin, Scream, and Feel the Fun on Our Attractions
Here at Castle Park, we have rides and Attractions for every member of your family in our kingdom of fun, ensuring everyone can experience thrills. From calm to just crazy enough, here are our picks for the finest rides that will leave you and your loved ones feeling like royalty.
Merlin's Revenge
For anyone who's ever wanted to meet a magical legend and who loves roller coasters, this is the ride! Merlin's Revenge is a family-friendly coaster that gives you the opportunity to take in the park from the top before rushing downhill with a whoosh. Your children can channel their inner witch or wizard with a happy shout while twisting, turning, and looping along with the wind whipping around. For a dramatic storybook-perfect moment, you'll even come face-to-face with the magical man himself; and, whether friend or foe, it's a quest for the ages.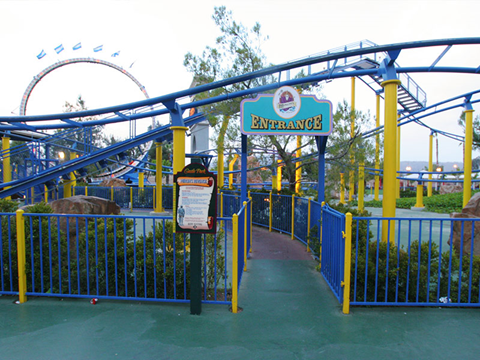 Fireball
Older children, teens and young adults looking for a true adrenaline rush, rejoice. This is the one ride you can't miss! An inverted looping coaster, the Fireball will leave your head spinning as you circle and circle at ever increasing velocity. You'll get some of the very best views of the park from the top – if you can still see straight, that is! Pausing to suspend riders upside-down, then even switching the direction of its spinning, the Fireball will do everything in its power to leave you disoriented. Sure to leave you dizzy yet screaming with excitement, this is the ultimate quest to conquer for bragging rights with all your friends.
Ghost Blasters
A modern classic at many an amusement park, Castle Park is excited to host Ghost Blasters, an interactive attraction that's fun for the whole family. Half ride, half game, this crawl through the dark yet colorful Bleakstone Manor lets families and friends compete against one another to score the most points. With backlit ghosts and ghouls around every corner and equally spooky and silly features, you'll have to be a sure-fire shot to blast the most targets. Featuring moving targets to keep you on your toes and a multi-level course to keep the fun going, this is one scarily good game.
King's Crown
For families with kids, what better way to feel like royalty than on your very own throne in the sky? King's Crown lets you have just that on a swing ride that's the perfect blend between the safety parents need and the high-flying excitement kids crave. Around and around in gentle yet lively circles your seat will swing, higher and higher, with the warm sun shining and the wind whooshing. You and your children can laugh together experiencing an ever greater thrill than other swing rides for younger family members like the Dragon Flyer. This royal ride is perfect for kids who want to fly in the sky but don't quite meet the 48" height requirement yet.
Spaceships
For our younger princes and princesses, we have rides that will take them on magical journeys. One of the most exciting is the Spaceships, combining all the fun of a flight through space with the skills of a shooting game. Not quite as competitive as Ghost Blasters, but more of a high-flying adrenaline rush, this is our top pick for epic quests to be conquered!
Sea Planes
If your little ones prefer a more peaceful flight, but still plenty of high-flying thrills, then the Sea Planes are a perfect choice. Just like the royalty of the Red Baron, even the smallest pilot can soar up, up, and away in a beautifully decorated biplane. Gently circling the field below, with a partner for company, your young pilot can feel excited yet relaxed as their flight squad surveys the kingdom.
Castle Park Railroad
For one of the most exciting family-friendly adventures we offer, come take a calming ride on the Castle Park Railroad. Our mini locomotive takes you on a scenic tour of Castle Park among the trees that feels like a journey through a magical forest. Plus, with our historic railroad recently getting a brand-new set of wheels, we promise the ride is smooth and sleek. A proud part of our history to welcome you for years to come, let the Castle Park Railroad carry your family into a storybook-perfect setting.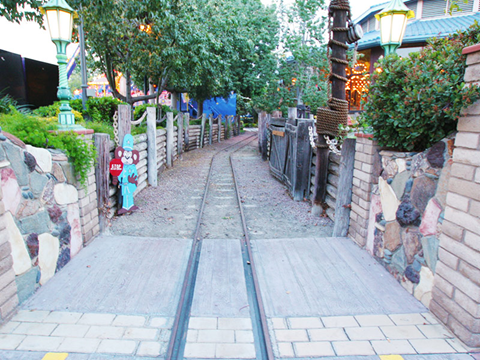 Sports, Games, and Fun: Let the Competition Begin!
After a long day of rides that everyone will be thrilled by, the evening can get even more exciting with a bit of friendly competition. At Castle Park, we offer two of the most fun things to do in California in one of the most unique settings. Whether family or friends, or even a couple on a date, everyone loves playing games that test their skills and keep them on their toes. Arcades and Mini Golf are two classic options to do just this – and here you don't have to choose just one. Only in our kingdom can you scream on a roller coaster, splash in a water park, and then go head-to-head in games of glory.
To start the competition, there's the Castle Arcade, offering hundreds of state-of-the-art video games on the ground floor. From Time Crisis 4, to Jurassic Park, to Moto GP, your hand-eye coordination will be pushed to the limit alongside friends and family members eager to win. With some of today's most thrilling arcade games, and certainly one for everybody, you're sure to find at least one in which you can come out victorious. If you have yet to check it out, or if you're ready for Round 2, head up to the second floor for some Ghost Blasters.
Afterwards, even if it's already grown dark outside in the midst of your competition of epic proportions, don't sweat it. Our Mini Golf courses are lit with over 4,700 lights that come up as soon as the sun goes down, so you can keep the games going all night if you want. Plus, with four precisely planned full 18-hole courses from Prince to Princess, Duke to Merlin, you'll have hours of putt-putt fun ahead of you!
Shows, Delicious Dining Options, and Water Fun For the Summer in California
If the adrenaline rush of rides and games is too hot to handle, we have plenty of options to keep you cool instead. For families or friends looking for some award-winning entertainment that's fun for all ages, there's our exciting Anthony the Magic show. With over a decade of experience in dazzling audiences, and the title of the "Inland Empire's Best Entertainer of 2019," it's a must-see spectacle for all! For dinner and a show, there's Al's Big top Restaurant, where a festive circus theme combines with all the BBQ options you could dream of.
The ultimate way to beat the heat is at Buccaneer Cove, our very own water park! With four levels of family water fun, including five colorful water slides, there's plenty of chances to cool off while keeping the fun hot all summer long.